EverydayFit Leaflet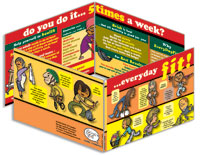 EVERYDAY FIT - leaflets
Painting and decorating, carrying heavy shopping, whizzing round the supermarket ... this handy leaflet will make you think differently about your everyday chores.

Shows how to fit physical activity into even the busiest life - and what it can do for you healthwise.

For all ages and stages.



Click on the pic to change the image size
Click here to view the entire GET FIT & HAPPY HEART section.
Code: 496
Size:
Items per pack: 50
Price (per pack): £8.00
Discount scheme C