Are You Fit? Poster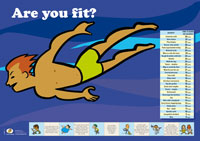 ARE YOU FIT POSTER, A3 - posters

Have a swim - or go for a walk, or get out the hoover...

This colourful and witty poster shows how to fit physical activity into even the busiest life.

Plus there's a useful list of how long it takes to burn 100 calories by carrying out everyday tasks such as moving the furniture, or washing the car.

For all ages and stages.



Click on the pic to change the image size
Click here to view the entire GET FIT & HAPPY HEART section.
Code: 495
Size: A3
Items per pack: 1
Price (per pack): £1.30 exc.VAT (£1.56 incl.VAT)