99 Ways to Cut 100 Calories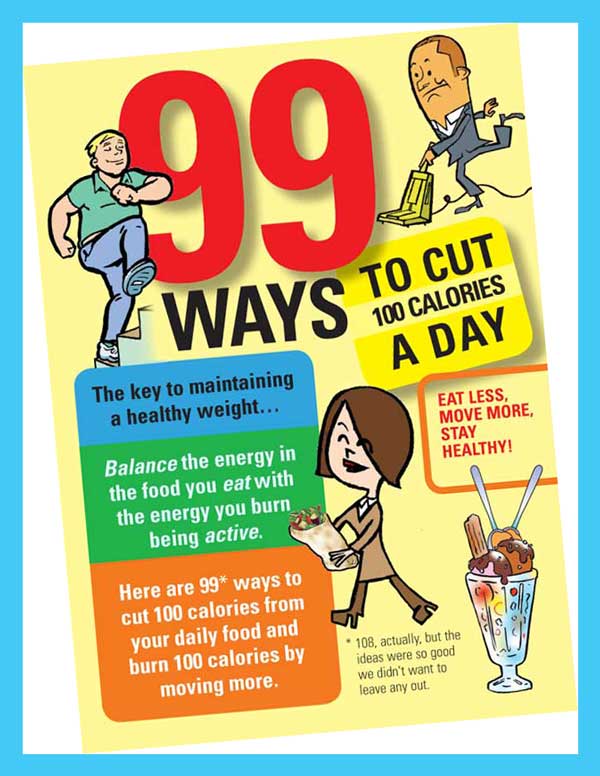 99 WAYS TO CUT 100 CALORIES LEAFLET - leaflets
NEW FORMAT - NOW A 12-PAGE BOOKLET!
ONE OF OUR MOST WIDELY-USED RESOURCES !
99 WAYS has become one of our most successful leaflets, widely used throughout the UK to promote healthy eating and a more active lifestyle. Readers have commented enthusiastically about how user-friendly it is.

The key to maintaining a healthy weight is to BALANCE the energy in the food you eat with the energy you burn being active.

Just an extra 100 calories a day could mean the difference between keeping a healthy weight and adding inches to your waistline.

Here are 99* ways to cut 100 calories from your daily food and burn 100 calories by moving more.

NOTE: In style and content, this leaflet is ideal for adults. But because the focus is very much on counting calories, and offers tips about how to reduce alcohol consumption, you may feel that it's not really appropriate for young teens.



Click on the pic to change the image size
Click here to view the entire GET FIT & HAPPY HEART section.
AVAILABLE NOW!
* 108, actually, but the
ideas were so good
we couldn't leave any out.
Code: 9501
Size: 12 pages
Items per pack: 50
Price (per pack): £12.50
Discount scheme D