Are You Getting Enough?
Upfront and unpatronising, this popular Healthy Eating booklet adopts a humorous, positive approach to diet and exercise. Widely used with teenagers, it explains why bodies like it so much when we're physically ACTIVE, drink lots of WATER, don't skip MEALS, and eat a really good VARIETY of food. Created in association with dietitians and health promotion specialists; an excellent aid to discussion. How to eat well, and why.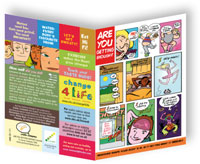 ARE YOU GETTING ENOUGH LEAFLET - leaflets
Click on the pic to change the image size / view contents
____________________
Food and fitness combined in this Comic Company bestseller.
Asks the questions Are You Getting Enough: Exercise? Water? Breakfast? Healthy snacks? Fruit and veg? Vitamins? Minerals? Starchy foods & fibre?
Packed full of info and tips.
Great for use with teenagers and adults.
Click on this link to view the entire HEALTHY EATING section.
Code: 11
Size: A6, 105 x 148mm, 16 pages
Items per pack: 50
Price (per pack): £20.00
Discount scheme A