Fats of Life
Confused about all those fats? - "saturated", "mono-unsaturated", "polyunsaturated", omega-3 fatty acids"?
This leaflet explains simply but effectively what they are, and how they affect CHOLESTEROL, HEART HEALTH, and BODY WEIGHT.
Includes a good basic guide to interpreting nutrition labels, and gives helpful advice on how to eat the fats you need, while cutting down on the ones you don't.
See also our FAT - SPREAD IT THIN resources.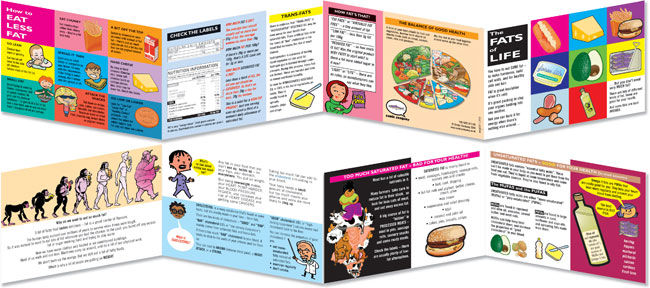 FATS OF LIFE LEAFLET - leaflets
SORRY - CURRENTLY OUT OF PRINT!

If you need 500 or more let us know and we may be able to arrange a speedy reprint..

But also take a look at FAT: SPREAD IT THIN, an excellent short leaflet that ccvers many of the same basics.
8-page folded leaflet.
Click on the pic to change image size.
Code: 131
Size: 8pp x 148mm x 99mm
Items per pack: 50
Price (per pack): £0.00
Discount scheme B