Healthy Choice
A range of mini-motivators to reward healthy eaters. Great for other healthy choices too - exercise, sport, sun safety, staying smokefree...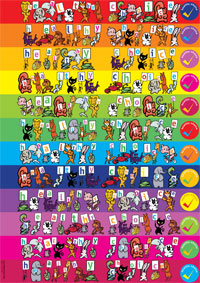 HEALTHY CHOICE ANIMALS PRAISELETS [SORRY-SOLD OUT!] - praiselets
Fantastic mini-reward! 60 bands (4 x A4 sheets of 12 different bands). Easy to cut. With secure self-adhesive tabs to adjust to any wrist size.


SORRY - COMPLETELY SOLD OUT!


---
Code: 132
Size: 25 x 210mm
Items per pack: 60
Price (per pack): £3.85 exc.VAT (£4.62 incl.VAT)