Water Water !
Healthy eating is about healthy drinking, too. These posters, postcards and fridge magnets remind us just why we need to drink lots of water every day.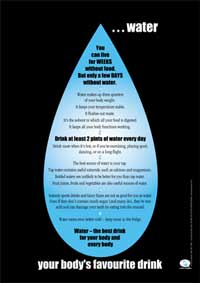 WATER - EVERY BODY'S FAVOURITE DRINK POSTER, A3 - posters
Water - Everybody's Favourite Drink poster
You can live for WEEKS without food. But only a few DAYS without water.
This poster encourages people to drink more water and explains why it's so important.
Click on the pic to change the image size
____________________
Code: 4
Size: A3 folded to A4
Items per pack: 0
Price (per pack): £1.30 exc.VAT (£1.56 incl.VAT)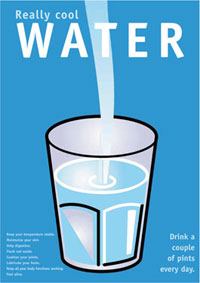 REALLY COOL WATER POSTER, A3 - posters
SO SORRY - OUR "WATER WATER POSTER" IS OUT OF PRINT (but let us know if you would like us to reprint) !
Click on the pic, or here, to change image size.
____________________
Code: 182
Size: A3 folded to A4
Items per pack: 0
Price (per pack): £0.00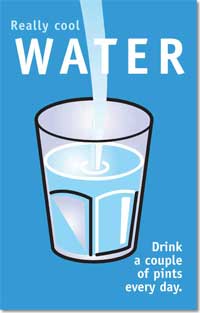 REALLY COOL WATER MAGNETS - fridge magnets
Click on the pic to change the image size
____________________
Code: 401
Size: 50mm x 80mm
Items per pack: 10
Price (per pack): £3.75 exc.VAT (£4.50 incl.VAT)