Sneezing 101

BRILLIANT ONLINE VIDEO !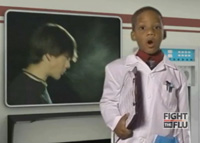 SNEEZING 101 - THE MOVIE - movie





Here's our favourite online movies about sneezing (and then failing to wash your hands)!

The script of this video is SO good that teachers might want to have their class perform it - not just read around the room, which would be great fun and very useful in itself, but to have children do all the actions as well!

DOWNLOAD a printable playscript here.

You can read Philip's Picture of Health Blog about this video here.

See lots more HANDS AND HEALTH resources here.




____________________
Code: 700
Size:
Items per pack: 1
Price (per pack): £0.00