Do the Vampire Sneeze Poster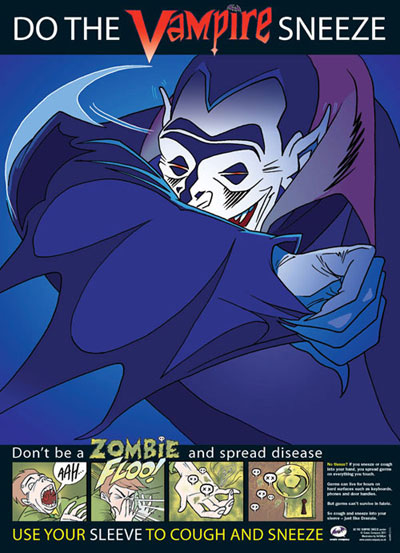 NEW!

DO THE VAMPIRE SNEEZE POSTER PACK, A4 - posters


DON'T BE A ZOMBIE AND SPREAD DISEASE -
USE YOUR SLEEVE TO COUGH & SNEEZE

You're just about to sneeze or cough but you don't have a tissue. What should you do? Cover your mouth and nose with your hands?

No! If you sneeze or cough into your hands (and fail to wash them straight away), you'll subsequently spread germs on everything you touch.

If germs stay moist, they can live for HOURS on hard surfaces such as keyboards, phones and door handles. But they can't survive in fabric.

SO DON'T BE A ZOMBIE! Cough and sneeze into the elbow of your sleeve - just like Count Dracula!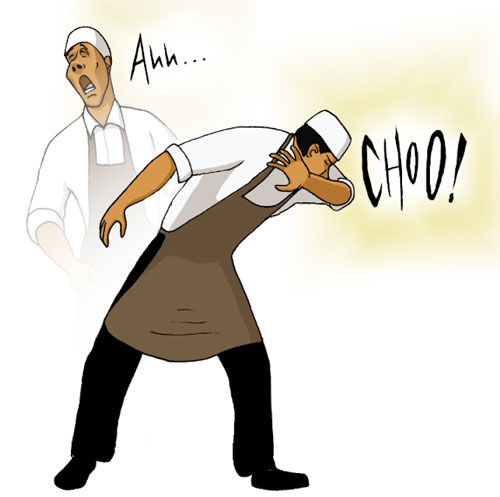 This really could make a BIG difference to the spread of colds and flu!


We're very keen that this practice should be adopted in all our schools, workplaces and everywhere on public transport.


Performing the Vampire Sneeze (and Cough) It's already widespread in many other parts of the world, but not yet in the UK.

This has GOT to change.

Tell us what you think about this poster - we would really appreciate feedback.

Read Philip Boys's Picture of Health blog about this poster.




____________________
DO THE VAMPIRE SNEEZE is being sold in PACKS OF 6 x A4 POSTERS (rather than single, larger posters) in the hope that even more people can get to see and be reminded of the message.


See lots more HANDS AND HEALTH resources here.




____________________
Code: 556
Size: A4 x 6
Items per pack: 6
Price (per pack): £5.00 exc.VAT (£6.00 incl.VAT)