Pick'N'Mix Salad
Easy-to-make salads. Suggests ways of combining a staple (such as rice or pasta) with a choice of vegetables, fruits, nuts and seeds, and protein foods. Ideal for packed lunches. Fun activity for adults & children.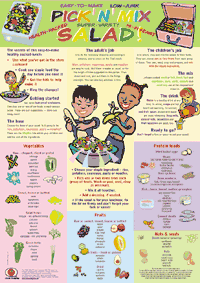 PICK'N'MIX SALAD POSTER, A3 - posters
VERY SORRY - SOLD OUT!
Practical and fun how-to poster. Shows just how easy it is to make an almost infinite number of tasty and nutritious salads.
Click on the pic to change the image size
Click here to view ALL our 5-A-DAY-related POSTERS
____________________
Code: 56
Size: A3 folded to A4
Items per pack: 1
Price (per pack): £0.00 exc.VAT (£0.00 incl.VAT)