GIVE YOUR TEETH A MAKEOVER postcard


NEW !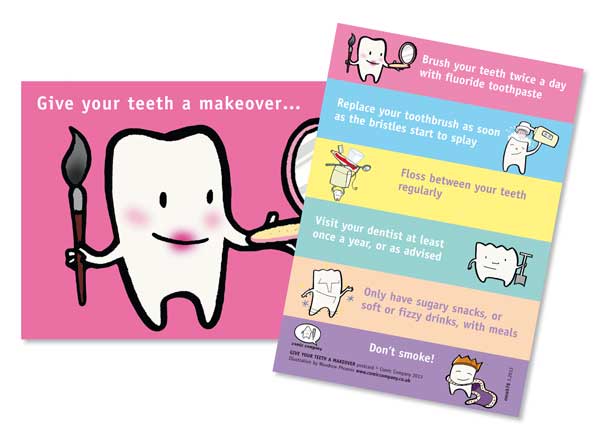 NEW!

GIVE YOUR TEETH A MAKEOVER postcard - postcards



Brilliant new postcard based on our Makeover Bookmarks (code 186) and Makeover Poster (code 145).

A really sweet reminder of the key messages!
Give your teeth a makeover


Brush your teeth twice a day with fluoride toothpaste - but don't scrub them


Replace your toothbrush as soon as the bristles start to splay


Floss between your teeth regularly


Visit your dentist once a year, or as advised


Don't smoke


Only have sugary snacks, and soft or fizzy drinks, with meals.


See more Oral Health resources here.

____________________
Code: 576
Size: A6 - double-sided
Items per pack: 50
Price (per pack): £5.50 exc.VAT (£6.60 incl.VAT)