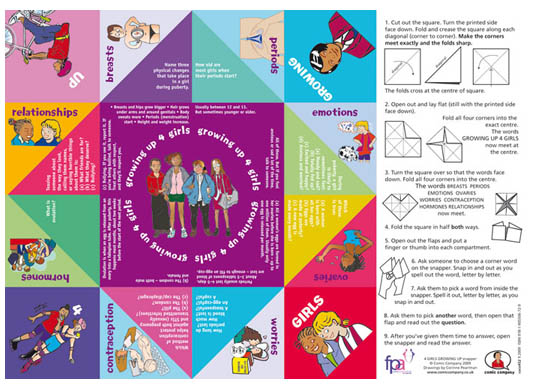 4GIRLS SNAPPER - snappers
SORRY - OUT OF PRINT
Based on
4GIRLS: A BELOW-THE-BRA GUIDE TO THE FEMALE BODY
, the popular young people's booklet developed by Comic Company for fpa.
Lively folded-paper quiz game asks questions about puberty and growing up in boys.
For use by teachers and other sexual health professionals delivering sex and relationships education, and for parents and carers to use with their children.
Great fun and very effective.
Meets curriculum guidance for key stages 3 and 4.
---
Code: 452
Size: A4 with cutaway folding instructions
Items per pack: 0
Price (per pack): £0.00