Special Offer !

Colouring Activity sheets

Eat 5 & 5 Eat 5 - 2 FOR 1!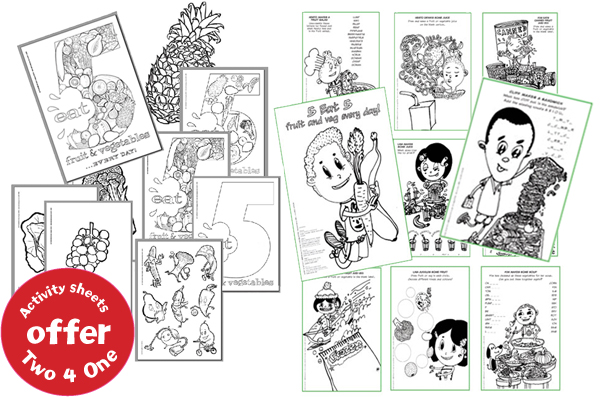 EAT 5 ARTLINES + 5 EAT 5 ACTIVITY SHEETS - activity sheets
Eat 5 colouring activity sheets and 5 Eat 5 colouring activity sheets - 24 sheets in all!

Versatile packs of photocopiable colouring activity sheets.
Ideal for displays and can also be used for self-made activity sheets.

Eat 5 activity sheets contain various fruits and vegetables to colour, as well as 3 versions of the Eat 5 artwork, and fun fruit and veg characters being active.

5 Eat 5 activity sheets feature the 5 Eat 5 characters making a variety of healthy meals and snacks.
Cliff's making a sandwich, Nesto a fruit salad, Tina'a making a healthy pizza, while Lina makes a delicious juice and Kim a tasty soup.

Quizzes to help learning, and great fun to colour!
You can download a pdf of the answer sheet here.
Code: 800
Size: 24 x A4 p'copiable sheets
Items per pack: 24
Price (per pack): £6.00