Spot the Difference - the world with & without smoking
Promotes the benefits of a smokefree world. People can't stop comparing the Before-and-After scenes.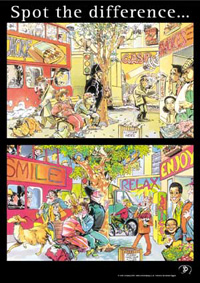 SPOT THE DIFFERENCE POSTER, A3 - posters
Imagine the world without tobacco... this A3 poster illustrates what life could be like smokefree!


____________________
A3 poster encouraging smoking cessation.
Click on the pic to change the image size
Click here to view our entire range of Tobacco-related resources.
____________________
Code: 30
Size: A3 folded to A4
Items per pack: 1
Price (per pack): £1.30 exc.VAT (£1.56 incl.VAT)