Animals Thank You
The Cuddly Animals thank us for not smoking - ideal for playgroups, infant schools & ante-natal settings.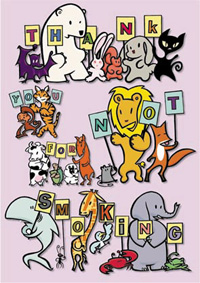 ANIMALS THANK YOU POSTER, A3 - posters
Fun, colourful family friendly no smoking poster
____________________
A menagerie of cute animal characters thank you for not smoking.
Click on the pic to change the image size
Click here to view our entire range of Tobacco-related resources.
Code: 23
Size: A3 folded to A4
Items per pack: 1
Price (per pack): £1.30 exc.VAT (£1.56 incl.VAT)