Craving
Tried and tested tips to stay stopped!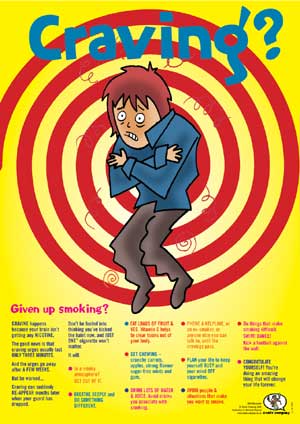 CRAVING POSTER, A3 - posters
Given up smoking? Craving happens because your brain isn't getting any nicotine. But don't be fooled into thinking you've kicked the habit. This poster has a specific health information target - how to help those who've given up smoking, or who are thinking of giving up, through the craving.

So get chewing, get your hands busy, crunch on those carrots and bite into that apple, sip loads of water, get out of that smoky atmosphere, do something new and celebrate the fact that you're doing something that will change your life forever!




Click here to view our entire range of Tobacco-related resources.
Code: 149
Size: A3 folded to A4
Items per pack: 1
Price (per pack): £1.30 exc.VAT (£1.56 incl.VAT)