Eatwell Guide Snakes & Ladders Giant Floorgame - code 633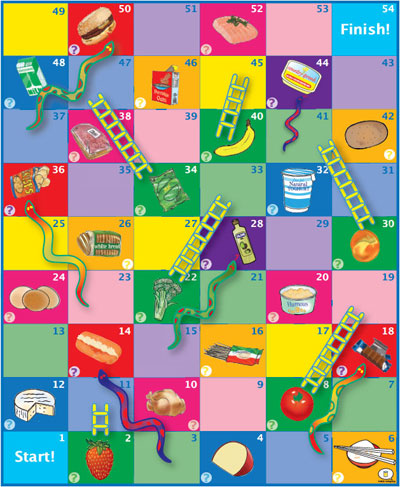 NEW!

code 633 - EATWELL GUIDE SNAKES & LADDERS GIANT FLOOR GAME - code 633 - vinyl floorgames




NEW Eating Guide Snakes & Ladders GIANT Floor Game

GIANT durable vinyl floor game measuring 1.2m x 1m - a really FUN way to learn about nutrition.

Answer questions correctly to speed you round the board - healthy foods whizz you up a ladder, but unhealthy foods slide you down a snake!

Very versatile - can be enjoyed by everyone and suits all ages and abilities!
Can also be played as a standard snakes and ladders game.

Includes:

* Wipe-clean durable vinyl mat 1m x 1.2m (can be used indoors and outside)

* A big dice

* Set of question cards on the Eatwell Guide and the food groups to cut-up and laminate. (Question cards are also available to download.)



Click here to see ALL our GIANT FLOOR GAMES & other NEW EATWELL GUIDE RESOURCES.



---
Code: 633
Size: mat 1m x 1.2m, dice, quiz sheets
Items per pack: 1
Price (per pack): £50.00 exc.VAT (£60.00 incl.VAT)