Size Matters
Obesity in men has tripled since 1980. SIZE MATTERS is a range of resources targeted at men, produced by Comic Company for the Food First Group of the British Dietetic Association.

Over the last couple of years, Size Matters resources have been used in hundreds of settings around the UK, and we've had great feedback about them. Three striking posters, an easy-to-read leaflet and colourful, laminated high-gloss mats - all featuring the everyman Big Dave - promote eight vital SIZE MATTERS messages.

The resources were originally created for the BDA's ongoing WEIGHT WISE campaign, which aims to increase awareness of the benefits of a balanced and varied diet in achieving and maintaining a healthy weight. For more information about the campaign, visit www.bdaweightwise.com.

Click here to see more resources starring BIG DAVE.

Click here to see more WEIGHT WISE resources.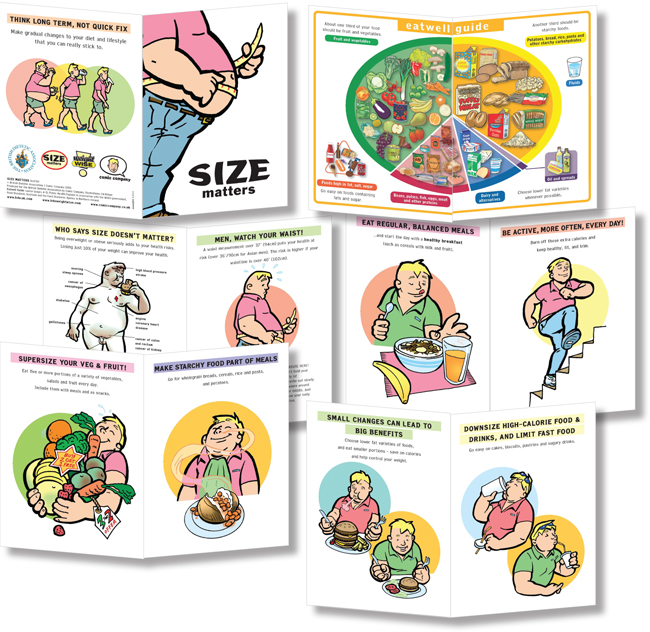 NEW!

SIZE MATTERS LEAFLET - leaflets



One of our most widely-used leaflets! Great fun, yet very practical.
Stars Big Dave!

This latest version of our leaflet features the new EATWELL GUIDE !








Click on the pic to change the image size

Code: 154
Size: 12 pages, 100 x 140mm
Items per pack: 50
Price (per pack): £12.50
Discount scheme D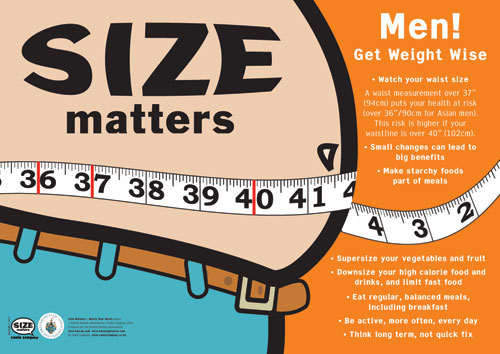 WATCH YOUR WAIST POSTER, A3 - posters
Code: 155
Size: A3 folded to A4
Items per pack: 1
Price (per pack): £1.30 exc.VAT (£1.56 incl.VAT)